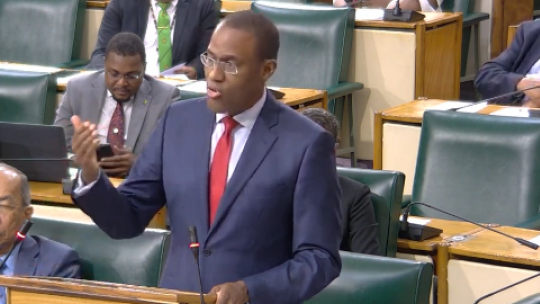 Dr. Nigel Clarke, Dr. Angela Brown Burke and Marissa Dalrymple Philibert
By Clinton McGregor
Finance Minister Dr. Nigel Clarke has rejected claims by the Parliamentary Opposition and other critics that he used racists comments against Opposition Leader Mark Golding during a sitting of the House of Representatives last Thursday.
Dr. Clarke was subjected to heavy criticism after he described Mr. Golding as "Massa Mark" while responding to the Opposition Leader's unsavoury description of supporters of the Jamaica Labour Party at a political meeting.
The Parliamentary Opposition walked out of the chamber in response to the Finance Minister's "Massa Mark" comment.
At a meeting of the National Executive Council of the PNP on Sunday, Mr. Golding apologised to the JLP supporters for having referred to them "damn fools".
But addressing the House of Representatives on Tuesday afternoon, Dr. Clarke said he would not apologise for his "Massa Mark" comment as it was not a racist attack on Mr. Golding.
The Finance Minister sought to defend his decision by explaining that the word "Massa" is used regularly in the Jamaican lexicon and no longer has racist connotations.
"The Opposition Leader and I have always enjoyed a very productive relationship in this and the other House and a warm and friendly one outside, inclusive of our wives. Some of the interpretations I have seen and listened to are inconsistent with that reality," Dr. Clarke said, insisting his comment was "misconstrued".
"My motives have been misrepresented and my intentions have been distorted. I regret that some persons may have viewed my remarks as racially motivated. To again be clear, that was never my intention. To apologise, however, Madam Speaker, would be to legitimise what simply is not true," the minister asserted.
'Rein in gov't members'
Member of Parliament for St. Andrew South Western Dr. Angela Brown Burke, who also spoke in Parliament on Tuesday, called on the House Speaker to rein in the government MPs, who she said have been using their majority to "verbally abuse" members of the Parliamentary Opposition.
"I want you to think with me, Madam Speaker, of two sides who meet almost on a weekly basis, several times sometimes. One side of 14 and another side of 49. I want you to imagine with me, Madam Speaker, what that side of 14 goes through day after day when the other side, at every opportunity they get, seek to quiet them by their numbers and by their abuse."
Dr. Brown Burke could be heard last week telling a member of the government to "Shut yuh mouth and let me talk" after she was seemingly interrupted when she rose on a point of order in response to Dr. Clarke's "Massa Mark" comment.
In a subsequent interview, she explained that her comment was in response to a government member who had told her to "sit down" - an insult she suggested is common when members of the opposition rise to speak.
On Tuesday, Dr. Brown Burke apologised for the retort.
House Speaker disappointed
House Speaker Marissa Dalrymple Philibert said she was left disappointed with the outbursts in the House of Representatives last week.
Mrs Dalrymple Philibert said she will not allow the use of racial slurs in the Parliament.
"This Parliament is the highest court of the land and this Parliament has examples of members who have sat in this House for several years, who have had disagreements, who have had differences of views, and disagreement with their counterparts and never before have I ever seen something that has brought this Parliament into the level of disrepute that took place last week. I want the reset to be made that it should never happen again," she declared.
---