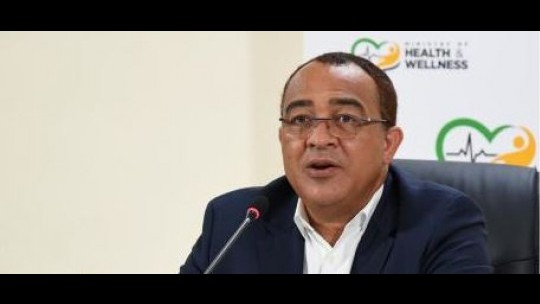 Minister Dr. Christopher Tufton and Cyber Security expert Gavin Dennis
Minister of Health and Wellness Dr. Christopher Tufton has refused to comment on reports his ministry knew about the JAMCOVID-19 data breach earlier than the government has reported.
The Ministry of National Security has said the government learnt of the breach on February 16, however, the American online newspaper which broke the story says it notified the ministry of health on February 13.
Dr. Tufton was questioned about the matter during a media briefing on Thursday.
He said the Office of the Prime Minister would comment.
"I'm gonna decline to comment with any specifics on that because an investigation is taking place and a t an appropriate time a response will be given," the minister told reporters.
Dr. Tufton also refused to comment on whether travellers' information had been deleted from the JAMCOVID-19 database after their quarantine period expired as the government had indicated it would be.
''I really can't give any additional information around the data and when it was destroyed or what was destroyed. So I have to pass on that because I don't have the information and I think it would be premature to comment," he said.
Cyber Security Consultant Gavin Dennis says the data breach on the JAMCOVID-9 website will have implications for the National Identification System (NIDS).
He says the data breach will reinforce a negative perception of NIDS and potentially cause persons to stay away from registration.
"People are going to have something to directly link and piggyback on to say why should we buy into this new thing which is NIDS when this recent data breach happened? It's going to be a much harder sell," Mr. Dennis suggested.
---