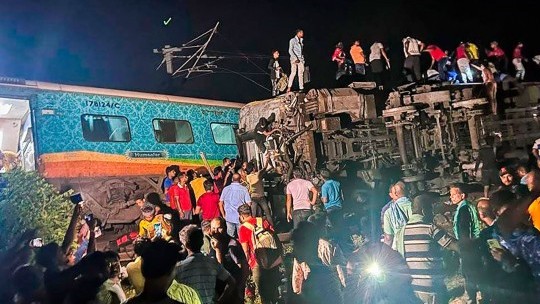 More than 120 people are now known to have been killed and 850 injured in a multiple train collision in India's eastern Odisha state.
Odisha's chief secretary Pradeep Jena more than 200 ambulances were sent to the scene in Balasore district.
One passenger train is thought to have derailed before being struck by another on the adjacent track today.
Indian Railways said the two services involved were the Coromandel Express and the Howrah Superfast Express.
Speaking to reporters at the crash site, Odisha Fire Services official Sudhanshu Sarangi said more than 120 dead bodies have been recovered.
He warned that the figures might go up officials complete the process of checking the overturned carriages.
Mr. Jena earlier said about 850 were injured, and more than 100 additional doctors have been mobilised.
Indian Prime Minister Narendra Modi said he was distressed by the incident, and his thoughts were with the bereaved families.
---