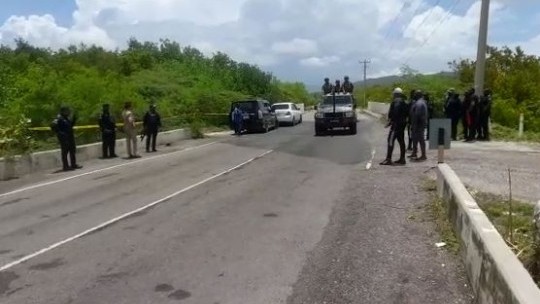 Deputy Superintendent of Police Earl Grant, in charge of operations in the St. Catherine South Division
The St. Catherine South Police is conducting an operation on the Hellshire main road, St. Catherine in search of suspects involved in Tuesday night's abduction of a man and a woman in Gregory Park, Portmore.
The victims were taken to Kingston where they were forced to withdraw about $100,000 from ATMs.
They were taken back to Hellshire, where the man was killed and his body dumped along the roadway.
The woman was not harmed.
The police, who were tracking the vehicle, engaged the men in a shootout along the Hellshire main road.
The car carrying the gunmen drove towards Fort Clarence Beach where it crashed.
One of the suspects was found suffering from bullet wounds.
He was taken to hospital where he later died.
The other suspects escaped into the mangroves and are being pursued by the police.
---