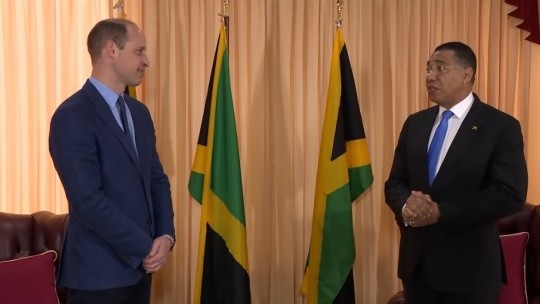 Prime Minister Andrew Holness
Prime Minister Andrew Holness has told the Duke and Duchess of Cambridge that Jamaica is moving on and will soon shed the British monarchy to become a republic.
Mr. Honess made the comments as Prince William and Kate Middleton made a courtesy call on the Office of the Prime Minister as part of their three-day visit to Jamaica.
In his brief remarks, Mr. Holness welcomed the couple to Jamaica but acknowledged the varied responses by Jamaicans to the visit.
Admitting that the country still had "unresolved" issues, the Prime Minister said the presence of the royals "gives an opportunity for those issues to be placed in context, put front and centre and to be addressed in as best as we can".
He said matters relating to Jamaica's ambitions as an independent state would soon be resolved.
"Jamaica is, as you would see, a country that is very proud of our history, very proud of what we have achieved, and we're moving on; and we intend to attain in short order our development goals and fulfill our true ambitions as an independent, developed, prosperous country," he told the royal couple.
Last Thursday, Mr. Holness announced he will be naming an advisory committee to examine the issue of Jamaica moving away from the British monarchy to become a republic.
Mr. Holness said the question would ultimately be put to Jamaicans in a referendum.
He did not give a timeline for setting up of the committee or the referendum.
---