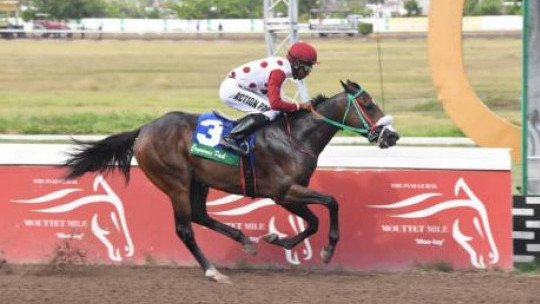 Report by RJRGLEANER Communications Group Sports Reporter Spencer Darlington
Leading jockey Reyan Lewis restablished his dominance of the race for this year's jockey's championship with a sparkling 5-timer at Caymanas Park on Saturday including the winner of the feature event and also one section of the divided co-feature.

Four of Lewis' winners were saddled by champion trainer and current leader Jason DaCosta.

Lewis guided the even money favourite Is That A Fact to a gate to wire victory in the Poorlittlerichgirl Trophy for Open Allowance runners over 7 furlongs.

The 3 year old American bay colt who was saddled by DaCosta, held off a tremendous late charge from last year's Jamaica St Leger and 2000 Guineas winner Blue Vinyl to record his fourth consecutive victory, having stepped up to the Open Allowance category for this contest.

Is That A Fact came home in a minute, twenty-five and two fifths of a second, winning by a short head.

Lewis and dacosta opened the programme with the 8 - 5 favourite Phenomenal One and were also successful with 1-9 chance Geolithic in the second event, Wayne's Princess at 5-2 in Division 1 of the Flossie McNeil Memorial Cup, a Restricted Allowance 2 contest over 6 furlongs and they closed out the programme courtesy of the 9-5 second choice Lucksol in the Restricted Overnight Allowance event over 5 furlongs round.

Lewis who was riding 5 winners in a single race day for the first time in his career, has now pushed his tally for the season to 82 wins, 16 clear of reigning champion Dane Dawkins who rode won winner. Racing continues next Saturday.

---