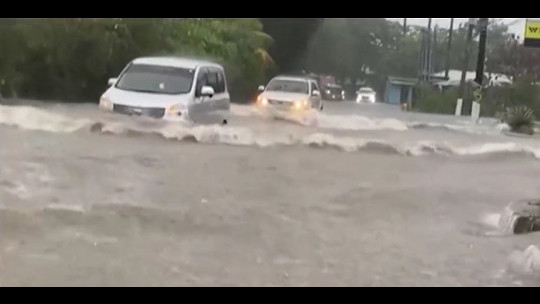 NWA Communication Manager Stephen Shaw
By Halshane Burke
The National Works Agency (NWA) says efforts to clear roads in Portland are being hampered by continuous rainfall.
Roads in sections of Port Antonio were transformed into streams and residents marooned as a result of heavy showers.
Communication and Customer Services Manager at the National Works Agency, Stephen Shaw, said the teams are out attempting to clear the roads.
"We did make some progress, but the progress that we would have loved to have made, especially in Portland, we have not been able to because of the continuous rainfall in the parish. We still have some issues that we would love to treat with on the road from Breast Works to Windsor, that and the stretch from Folly to Fair Prospect have been impacted," he advised.
The Stony Hill ford in Portland is also affected by flooding.
Mr. Shaw said other roads that were affected have since reopened to single lane traffic.
Roads in St. Mary and St. Catherine have also been affected by the heavy rains.
"In St. Mary, the two corridors that have been impacted, we have managed to get single lane access to them and that's the Richmond to Kendal and the Freetown to Lewisburg corridor," Mr. Shaw reported.
In St. Catherine, the Troja to Natural Bridge roadway, which had been blocked, has been reopened.
Mr. Shaw urged road users to exercise extreme caution over the next 24 hours.
---