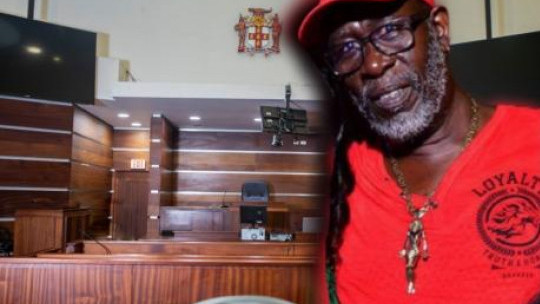 By Racquel Porter
The Home Circuit Court on Monday afternoon heard that Portland businessman Everton "Beachy Stout" McDonald, who is on trial for the July 2020 murder of his wife Tonia, accused her of stealing up to $35 million from the business a day after she was killed.
This was revealed by Mr. McDonald's former employee turned state witness.
The witness during his evidence in chief told the court that he was like a son to Mr. McDonald and that the businessman trusted him.
In seeking to establish that he had a good relationship with the defendant, the witness testified that he was entrusted with Mr. McDonald's banking information and was tasked with depositing profits made from the establishment.
The court was also told that the witness was initially employed as a packer on March 27, 2000, at the supermarket operated by Mr. McDonald's first wife Merlene, who died in 2009.
He was later promoted to security guard after he caught women stealing alcohol inside the supermarket.
He also gave evidence that Mr. McDonald gave him $18,000 to purchase a cellular phone for Tonia in 2009, before Merlene died.
The Portland businessman and his co-accused Oscar Barnes are on trial for the July 2020 murder of his wife Tonia.
A seven-member jury comprising six males and one female has been selected to try the case.
Justice Chester Stamp is presiding.
The lead prosecutor in her opening address to the jury said Mr. McDonald and Mr. Barnes, whose bail was revoked Monday afternoon killed Tonia without any legal excuse.
Mr. McDonald is represented by attorneys Earl Hamilton, Courtney Rowe, Christopher Townsend, and John Jacobs.
Mr. Barnes is represented by attorney Ernest Davis.
Mr. McDonald is also charged with the 2009 murder of his first wife Merlene.
He is to be tried alone for that matter in January 2024.
Investigators reopened that case in 2020 following the murder of Tonia.
"Mrs McDonald"
In the meantime, months after Mr. McDonald's first wife died, the witness gave evidence that he brought Tonia to the supermarket and introduced her to the staff.
But he said it was after Mr. McDonald introduced Tonia as "Mrs McDonald" that she asserted herself in the business and began playing a managerial role.
The state witness testified that he was reluctant to call Tonia, "Mrs McDonald".
He became emotional when he was asked where Tonia was today.
Wiping away tears, he said he recalled visiting the crime scene with another security from the wholesale and Mr. McDonald confirming that the body was that of Tonia.
He said on the night in question, he, another man and Mr. McDonald were at the wholesale when Mr. McDonald received a phone call informing him that Tonia was dead.
He said Mr. McDonald exclaimed: "How we deh yah and nobody nuh tell me seh me wife car bun up and me a hear it from farin? Yuh serious!? Den how she reach up deh suh? Mi tell har 'bout dem man deh weh she a keep enuh."
The witness said his upset boss shouted at him instructing him to drive him to the location.
But before the witness, another man and Mr. McDonald left for Fairy Hill, he heard Mr. McDonald on the phone asking whether the person on the other end of the call was sure it was Tonia.
The court was later told that it was a police officer who had contacted Mr. McDonald.
The witness said when they arrived at the crime scene they saw the burnt motor car with fire coming from the engine.
He said the area was cordoned off but Mr. McDonald attempted to proceed beyond the yellow tape and was stopped by a police officer.
The witness said it was business as usual a day after Mr. McDonald saw his wife's partially burnt body.
He said Mr. McDonald was assessing his books when he accused his wife of stealing millions of dollars.
The trial continues Tuesday in the Home Circuit Court.
---