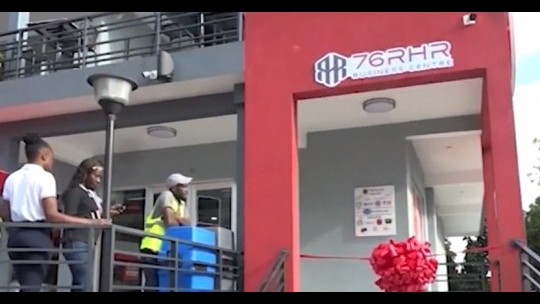 Sharon Lee-Hendrickson and Industry Minister Aubyn Hill
The Lee's Group has officially opened the multi-million dollar 76 RHR Business Centre on Red Hills Road.
A representative from the group, Sharon Lee-Hendrickson, said the facility provides a range of offerings.
"Upstairs in the plaza, you can get all the different medical services, including optical and pharmacy. There is also financial. We have printing services and we have M10, a sit-down restaurant. Downstairs, there's a beautifully laid-out two-story department store that has everything for men's, ladies, children and home."
Additionally, Mrs Lee-Hendrickson said the facility has a convenience store as well as an open food court area.
The facility also boasts a Business Process Outsourcing space, occupied by Sutherland Global.
Industry, Investment and Commerce Minister Aubyn Hill said it will have a trickle down effect on employment.
"The infrastructure injection of approximately 140,400 square feet, in which BPO facilities account for 92,200 square feet, is expected to provide 1,800 Jamaicans with direct employment within the sector," he noted.
"[These] 1,800 jobs represent 1,800 households that will have additional income to help many members of families purchase food, pay utilities and meet other important financial needs," said the minister.
---