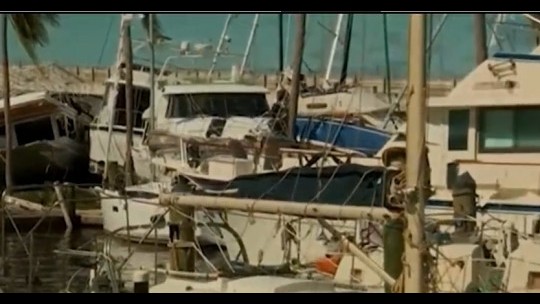 US media are reporting that more than a dozen residents in south-west and central Florida may have died as a result of Hurricane Ian.
According to the reports, 17 people have so far been confirmed dead as rescuers search for survivors in devastated communities.
The death toll is expected to rise in coming days.
Charlotte County Commissioner Chris Constance confirmed that six of the deaths occurred in the county.
Another person, who was in hospice care in Osceola County, has also died.
Earlier, officials in Volusia County confirmed that one man, aged 74, died as a result of the hurricane while trying to drain his pool.
Lee County Sheriff Carmine Marceno also reported that about five people are believed to have died in the county.
US President Joe Biden said Hurricane Ian could be the deadliest hurricane in Florida's history based of the level of devastation in several counties across the state.
Speaking Thursday at the headquarters of the Federal Emergency Management Agency, Mr. Biden said early reports suggest substantial loss of life.
The hurricane made landfall Wednesday near the city of Fort Myers and brought severe flooding, high winds and storm surges.
More than 2.6 million Florida homes and businesses have no electricity and some areas are still submerged.
Emergency crews are sawing through fallen trees to reach people trapped in their homes.
Rescue teams on helicopters and boats raced to reach stranded residents of Florida's Gulf Coast after Hurricane Ian left behind deadly floodwaters, downed power lines and widespread damage.
One of the strongest storms ever to hit the U.S. mainland, Hurricane Ian flooded Gulf Coast communities before plowing across the peninsula to the Atlantic Ocean.
The extent of deaths and injuries remains uncertain, as rescue workers were only starting to respond to calls after not being able to go out sooner during the treacherous conditions.
Ian has intensified into a hurricane again with maximum sustained winds of 75 miles per hour, according to the latest update from the National Hurricane Center.
Hurricane Ian is located about 240 miles south of Charleston, South Carolina, and is moving toward the north-northeast at 10 miles per hour.
---