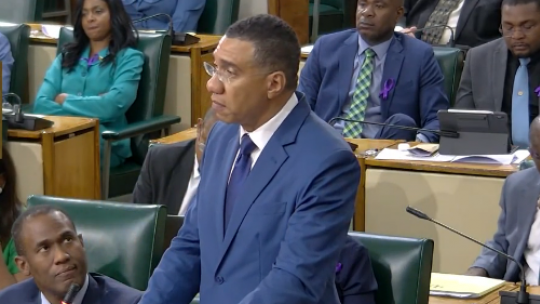 Prime Minister Andrew Holness
The government has announced plans to amend the Finger Prints Act, which will have far-reaching implications for Jamaicans in the taking of their prints and photographs.
Prime Minister Andrew Holness made the disclosure in Parliament on Tuesday, as part of the measures he says were being implemented to deal with crime.
The Finger Prints Act allows certain categories of people to take prints and photographs of people in custody with or without their consent once certain criteria are met. This includes specific offences named in the Act.
But Mr. Holness explained that the category of persons authorised to take the prints and the list of offences need to be expanded.
He suggested that questions may arise about the rights of individuals, but said he believes a balance is needed.
He said the changes to the Act will expand the offences schedule, the groups authorised to take fingerprints, as well as extend the time for the retention of fingerprints.
It will also allow for the use of "approved modern technology" to electronically take prints and store the data.
"We can't only be looking to protect the right to privacy of someone who could be a criminal or may not be. But we also have to balance to make sure that that person does not escape the control of the law to go and kill someone. That's our duty," Mr. Holness insisted.
The Prime Minister argued that the current Finger Prints Act is "old and outdated", lamenting that it is "easier to get a DNA sample than it is to get a fingerprint".
He said the amendments to the Act have already been discussed and National Security Minister Dr. Horace Chang will table the new bill in short order.
---