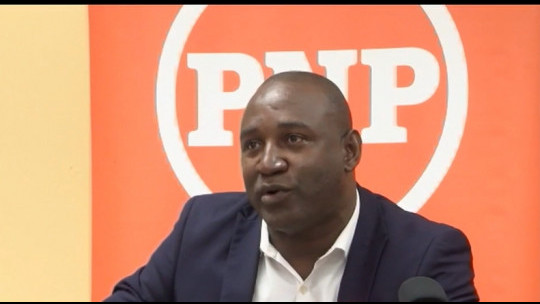 Dr. Dayton Campbell
By Nakinskie Robinson
People's National Party (PNP) General Secretary Dr. Dayton Campbell is lashing out at the government over what he claims is its decision to block the National Health Fund (NHF) from participating in the opposition party's health fair last Thursday.
Dr. Campbell was addressing a ceremony to present the party's candidates for the parish of St. Ann ahead of the local government and general elections, at the St. Hilda's Diocesan High School in Brown's Town, St. Ann.
He has accused the government of politicising the welfare of the Jamaican people.
"The NHF seh dem a come come check people and sign dem up so dem can get NHF card. We build we flyer and put it out. You know seh dem likkle insecure man call from Cabinet, call di NHF and seh you cyah go dung a PNP go run health fair because unuh a turn the NHF inna political organisation," Mr. Campbell complained to supporters.
"Any party that put di health of people pon di back burner because dem a fight 'gainst likkle political mileage is not a party that we can trust and is a party that we must vote out," he declared.
---