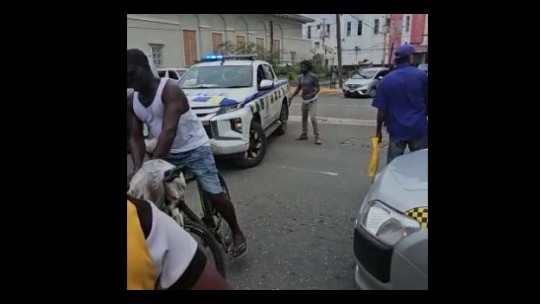 PSTEB head Assistant Commissioner of Police Gary McKenzie
By Clinton McGregor
A Police Corporal attached to the Public Safety and Traffic Enforcement Branch (PSTEB) has been hospitalised in serious condition following a motor vehicle mishap in downtown Kingston, on Friday morning.
Corporal David Forrester suffered major injuries to his leg after being knocked from his motorcycle along King Street.
PSTEB head Assistant Commissioner Gary McKenzie told Radio Jamaica News that Corporal Forrester was dressed in uniform and driving his marked police motorcycle in a southerly direction along King Street.
When he got to the intersection of King Street and Tower Street, a panel van coming from Tower Street collided with the motorcycle.
Corporal Forrester fell and was injured.
The injured cop was rushed into emergency surgery as doctors tried to save his leg.
Corporal Forrester is usually heard providing traffic updates during Radio Jamaica's Roving Reports on Wednesday mornings.
---