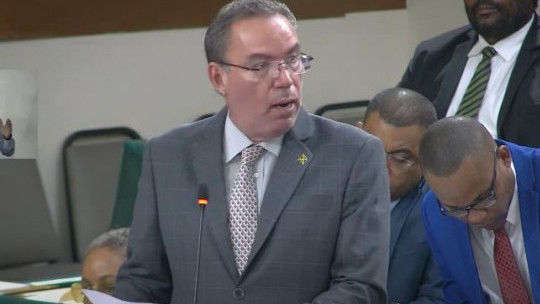 Daryl Vaz
By Nakinskie Robinson
Stiffer penalties should be imposed for malicious communication including hate speech.
That's the recommendation from the Joint Select Committee charged with reviewing the Cybercrimes Act 2015.
Speaking in the House of Representatives last week, Minister of Science and Telecommunications Daryl Vaz said the committee recommended that Section 9 of the Act be amended to deter those intent on causing mayhem in cyber space.
It was recommended that the Act be amended to include hate speech as a type of communication deserving of punitive treatment.
"The committee was advised by the Legal Reform Department that the issue of hate speech engaged several rights under the Constitution, especially the freedom of expression. It was suggested that the ministry with responsibility for information should take the lead in crafting provisions on the offence of hate speech," Mr. Vaz outlined.
In addition, the minister said the committee suggested that the legislation address offences relating to revenge porn or the sharing of an intimate image.
"The committee was informed that some jurisdictions address this matter in a technological neutral way, whereby the form of publication was not limited to computers. It was suggested that the proposal to create an offence of revenge porn could be included in Section 9, the scope of which was sufficiently wide as the provision addressed data published with an intention to harass or cause harm," he explained.
---