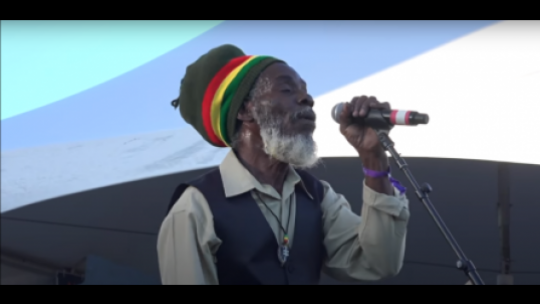 The St. Andrew South Police are investigating whether a gang conflict led to Tuesday night's shooting on McKinley Crescent, which left two people dead including Tabby Diamond, the lead singer of the legendary trio the Mighty Diamonds.
The 67-year-old musician, whose given name is Donald Shaw, and another man identified as Owen Beckford, were killed when a gunman opened fire on a group outside a shop about 9:40 p.m.
Two men and a woman were also shot.
Senior Superintendent Kirk Ricketts, Commanding Officer for the St. Andrew South Police Division, told Radio Jamaica News that rival factions from McKinley Crescent and Wint Road have been involved in a longstanding conflict.
He said the preliminary assessment is that the shooting could be linked to the dispute.
SSP Ricketts said investigators are also probing whether Mr. Shaw, who was from McKinley Crescent, was the target of the attack due to his son's link to criminal activities.
According to the police, Mr. Shaw's son is a known "violence producer" in the community and is currently in custody for murder.
Shocked
Culture Minister Olivia "Babsy" Grange has described Tabby Diamond's killing as senseless.
She said the tragic incident has left a void in the Jamaican music landscape.
Members of the Reggae industry have also expressed shock and grief at news of the killing of Tabby Diamond.
Music producer Skatta Burrell, reggae artistes Bushman, Warrior King, and Mikey General were among those who posted pictures and videos of the musician on Instagram while calling for an end to violence in Jamaica.
The Mighty Diamonds, made up of Donald 'Tabby' Shaw, Fitzroy 'Bunny' Simpson and Lloyd 'Judge' Ferguson, was formed in 1969.
The trio is known for classic songs such as Pass the Kutchie, I Need a Roof and Have Mercy.
Major crimes down
The Commanding Officer of the St. Andrew South Police said while he is concerned about the number of mass shootings in the division, up to March 28, major crimes were showing a downward trend when compared to the same period last year.
SSP Ricketts reported a 33 per cent reduction in major crimes, while murders were down by 45 per cent and shootings by 41 per cent.
"We have been holding the ground pretty well since the start of the year. Over the last week or so, we have had some serious incidents resulting in multiple casualties and I can understand the level of fear rising significantly because these incidents, quite rightfully, would have gotten a certain level of media attention. But we believe that the men on the ground are committed to the task and we will contain it," he asserted.
There have been 31 murders in the division since January.
---