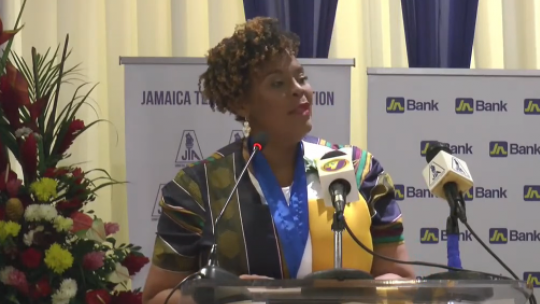 La Sonja Harrison
By Kimone Witter
Teachers are to vote on February 3 on the wage offer from the Ministry of Finance, under the new compensation scheme.
The Jamaica Teachers' Association began islandwide sensitisation sessions on Tuesday in St. Ann, Portland and St. Mary.
Speaking with Radio Jamaica News at the conclusion of the meeting at Marcus Garvey Technical High School, JTA President La Sonja Harrison said the feedback from teachers will determine the association's response to the Finance Ministry.
"[It] was an objective on our part, for each teacher to have the opportunity to come and hear for him or herself what is on offer and for them to now go ruminate, for them to reflect on same, even, and very importantly, pray, and then instruct their delegate as to how it is that individual ought to vote when that time comes on February 3rd of next week."
Mrs Harrison said there is disquiet among some teachers who have compared what is being offered to educators with that accepted by nurses.
While she insisted the teachers do not begrudge nurses, she explained that a "trained graduate is getting $300,000 less than where the RN1 nurse starts".
According to the JTA president, this is unacceptable since both sets of professionals must go through similar lengths of training.
---