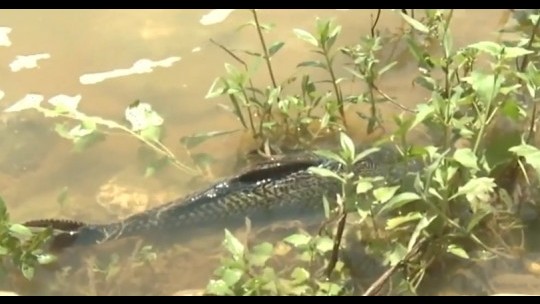 Richard Nelson, Senior Manager for NEPA's Environmental Management Sub-division
Mining company Windalco has until today (Friday) to remove dead fish from the Rio Cobre in St. Catherine following an enforcement order issued by the National Environment and Planning Agency (NEPA) on Wednesday.
Richard Nelson, Senior Manager for NEPA's Environmental Management Sub-division, says Windalco could face serious consequences, including court action, if it fails to complete the clean up on time.
Earlier this week, NEPA conducted tests and concluded that effluent from Windalco caused the fish kill.
The mining company acknowledged that there was an overflow of effluent from its plant on Sunday.
However, it has not accepted liability for the fish kill.
Kent Village suffering
There are reports that some residents of Kent Village in St. Catherine are suffering from respiratory illnesses due to the discharge of effluent into the Rio Cobre.
One of the residents, Daniel Gayle, said some members of the community are displaying symptoms associated with asthma and sinus infection.
He was made the revelation Thursday on Radio Jamaica's current affairs programme Beyond the Headlines.
In a statement on Thursday night, the St. Catherine Health Department warned that fish from the Rio Cobre should not be eaten because of the effluent discharge.
It said it was also unsafe to consume water for domestic purposes from the area.
The National Water Commission and National Irrigation Commission have closed their intakes in the area to prevent contamination.
The health department said it will advise the public when cleanup and remedial work at the river have been completed and it is safe to use the water and consume fish from the area.
---