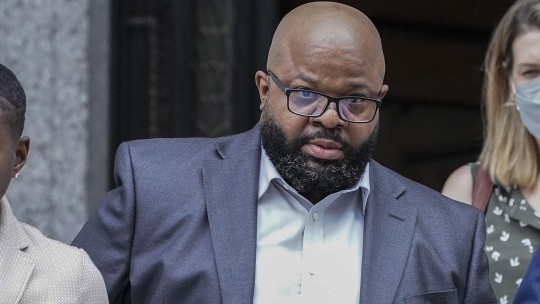 R. Kelly's former manager, Donnell Russell, was today sentenced to 20 months in prison after pleading guilty in July to using threats, harassment, and intimidation against Kelly's victims.
Russell admitted to stalking one of Kelly's sexual abuse victims in an effort to keep her silent.
Prosecutors say Russell used reprehensible tactics against the unnamed victim after she filed a civil lawsuit against the singer in 2018.
They included sending threatening messages to the woman and her mother and then publishing explicit photos of her on the internet.
He was also convicted of making a threatening phone call against a crowded Manhattan theater that was preparing to premiere Lifetime's Surviving R. Kelly series.
The phone threat prompted a call to the police and an evacuation that forced the premier to be canceled.
Russell awaits sentencing next week on those charges.
The disgraced R&B star was convicted on sex trafficking and racketeering charges and sentenced to 30 years in prison.
---