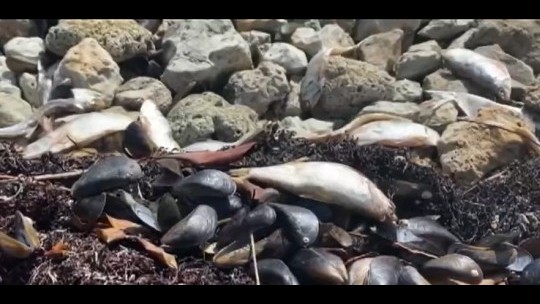 Kestonard Gordon, Vice Chairman of the St. Catherine Parish Development Committee and fisherman Andrew Broadbell
By Lorraine Mendez
Radio Jamaica News has been informed of another major fish kill affecting the Rio Cobre in St. Catherine.
This time a number of dead fish have been observed in a section of Gregory Park, Portmore, St. Catherine where the Rio Cobre empties into the sea.
Kestonard Gordon, Vice Chair of the St. Catherine Parish Development Committee, said the area is blanketed by the smell of rotting fish.
He theorised that the fish were killed after waste was dumped into the river and has called for the authorities, including the National Environment and Planning Agency (NEPA), to do more to protect the livelihoods of affected fishers.
"We are appealing to the government to do a social intervention where these fishermen are concerned. This is really serious. It is ridiculous. The state agency NEPA has not been performing. They have been totally ignoring calls for them to be more vigilant in taking care of the environment," he argued, adding that "the government itself has been extremely negligent" in supervising the state agency.
Mr. Gordon contended that the "persistent poisoning" of the Rio Cobre by corporate entities has resulted in those served by river being economically disadvantaged.
He said he reached out to a representative of NEPA on Tuesday morning regarding the reported fish kill, but did not receive a response.
Fishers in the area said they have been seeing dead fish since this Sunday.
Radio Jamaica News spoke with Andrew Broadbell, a fisherman who said he observed effluent flowing into the river, prior to the fish kill.
Mr. Broadbell said his livelihood has been significantly affected and he is therefore appealing to the government to take action against those found to be polluting the Rio Cobre.
---