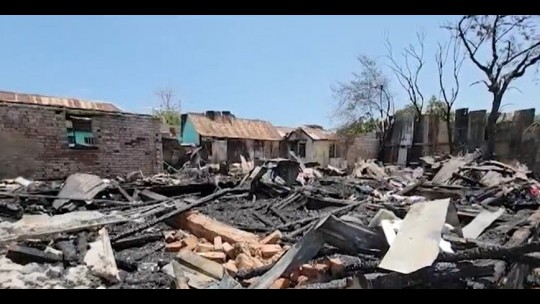 Despite conflicting reports about the cause of a fire that destroyed several houses on Smith Lane and James Street in Central Kingston on Monday, residents of the community are calling for the authorities to extend a nearby Zone of Special Operations (ZOSO) to the community.
The residents are insisting that their houses were firebombed by hoodlums amid ongoing gang violence in the community.
Investigators have said they are yet to identify evidence that the houses were firebombed.
But the residents have refuted those claims, maintaining that gunmen had been firing shots in the community at the time of the alleged firebombing.
"Bredda, when mi fly my door a pure gun shot. Weh yah tell me seh? A brave heart me tek and come out fi draw out mi tings dem outta di fire. Weh police a seh? Dem dung yah?" one irate resident complained.
Another resident, whose relative lost all her belongings, is fearful that there will be another attack.
The resident threatened protests if the government did not implement a Zone of Operations in the area.
"If we nuh get nuh ZOSO roun' here we aguh block di road and we nah stop block di road because dem aguh come back," she lamented, adding that children in the community were traumatised.
A Zone of Special Operations was declared a stone's throw away in neighbouring Parade Gardens in January.
Prime Minister Andrew Holness toured the Smith Lane and James Street community on Tuesday afternoon to view the destruction.
Speaking with reporters during the tour, he said he will re-examine whether there is a need to expand the Zone of Special Operations to Rose Gardens.
However, he cautioned that with several other areas across the country in conflict and also calling for a ZOSO, these communities were all "competing for the same resources, so that really is a challenge."
Mr. Holness said while the official report of the incident in the Central Kingston community does not suggest arson, the authorities were "not discounting what the residents have said".
Superintendent Beresford Williams, head of the Kingston Central Division, said the police "have sufficient control" of the area and will continue to monitor the space.
The Kingston and St. Andrew Municipal Corporation (KSAMC) said assessments are now taking place with a view to providing assistance to residents whose houses were destroyed during Monday's blaze.
During an interview with Radio Jamaica News on Tuesday afternoon, Mayor of Kingston Delroy Williams said a team from the Poor Relief Department, headed by the parish disaster coordinator, visited the victims on Monday.
---