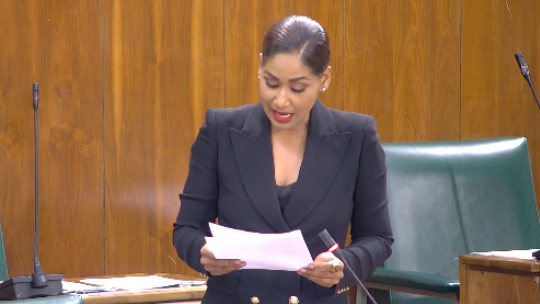 Commentators Latoya West Blackwood and Dr. Nadeen Spence
Social commentator Latoya West Blackwood believes Lisa Hanna's signal that she will leave representational politics is a sign of deeper issues within the party which remain unresolved.
She has concluded that the statement issued on Tuesday by the MP has a wider interpretation and should be carefully examined.
Tuesday's move came as a surprise to the nation, and apparently to some individuals within the People's National Party.
The MP stated that she was stepping away from representational politics, but suggested in her statement that change and attracting new talent were essential for organisations to survive.
Mrs West Blackwood said the news was shocking, but argued that a deeper message in the MP's letter was related to "alignment and the core values" of the PNP.
For the commentator, this suggests there was "some lack of authenticity" in recent public shows of unity in the leadership of the party and that "the divisions run a lot deeper than what is being presented".
Mrs West Blackwood added that based on Ms Hanna's recent public utterances, her "thought pieces on the different issues facing our society and economy", as well as her personal and political branding on social media, her decision to leave representational politics was completely unexpected.
While the move was somewhat surprising, the commentator admitted that she was "not so shocked because... some of us would have seen beyond the public shows that there is some division in the PNP".
Political commentator Dr. Nadeen Spence has predicted that there will be some fallout within the PNP since Ms Hanna's letter of intention is also "essentially saying the leadership needs work".
Dr. Spence believes this will put pressure on the leader, Mark Golding, and "reignite the conversations again about his competence and his way of leading the party".
But she also suggested that Ms Hanna's decision to step away from politics might be a case of her believing the PNP is not a viable party going into the next general election, as well as her deciding she would not waste her time since she narrowly retained her seat in the last general election.
Ms Hanna reclaimed her St. Ann South Eastern seat in the September 2020 general election in a magisterial recount by 32 votes.
---