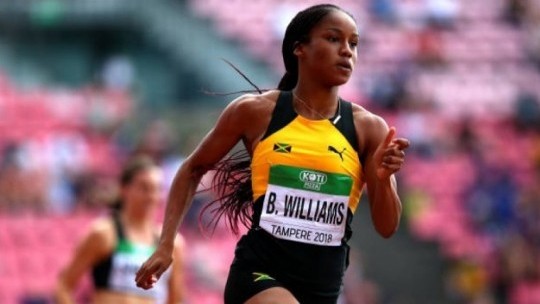 By Kayon Raynor
Jamaican World Under-20 double sprint gold medallist and national junior record holder Briana Williams will face an anti-doping disciplinary hearing in the coming weeks after testing positive for the banned diuretic, Hydrochlorothiazide (HCTZ).
RJR Sports sources have confirmed that Williams's "B" sample has confirmed the "A" sample as being positive for the masking agent.
Both those samples were tested at the WADA accredited lab in Montreal.
Hydrochlorothiazide (HCTZ) is a diuretic used by some athletes to lose weight or mask the use of anabolic steroids.
Pending the disciplinary hearing, Williams who clocked a yet to be ratified national junior record of 10.94 seconds to place third in the 100m final on June 21 at the national senior trials, could now miss the IAAF World Athletics Championships in Doha, Qatar from September 27 to October 7.
Contacted by RJR Sports Tuesday afternoon, Canadian based sports attorney Dr. Emir Crown confirmed had been retained as the representive for young Williams in the case, but expressed disappointment that the details of her case was in the public domain.
"This is one of those matters that because we are dealing with a minor and because there was no, at least communication to the athlete about the "B" sample that the very public revealing of her adverse "A" sample finding, that shouldn't have been released until at least a positive confirmation of the "B" sample," Crowne told RJR Sports.
"And again, we are dealing with a minor here and it wouldn't have been anyone preference for her name to be banned about before there was any such public finding, at least with respect to her "B" sample," the Canadian based lawyer reasoned.
When contacted by phone earlier on Tuesday, Alexander Williams, who chairs the Jamaica Anti-doping Commission, declined to comment on the matter.
Crowne intends to argue that the banned substance was contained in the contaminated over-the-counter medication Pharma Cold and Flu, which was declared on her doping control form.
"I can confirm that we have done an independent test on an over-the-counter cold medication that the athlete took and the independent test confirmed the presence of a diuretic and the diuretic was not listed among the ingredients in that cold medicine that the athlete took," Dr. Crowne divulged, while adding he was hoping for an expedited hearing before the JAAA names the national team to the World Championships in Doha on September 6.
It is understood that the matter will be heard by Independent Anti-Doping Disciplinary Panel.
Under the World Anti-doping Agency and IAAF rules, the athlete is facing the possibility of a maximum ban of four years for this first offence if the athlete is found guilty.
But Crowne believes Williams was not at fault and should be exonerated. "It is genuinely a case where… I would suggest no fault at all situation for something that was beyond her control, and beyond anyone's control really, as there's no way to know that a diuretic would find its way into an over-the-counter cold medicine," Crowne argued.
Multiple Olympic and World championship medallist Veronica Campbell-Brown, who also had a doping violation for Hydrochlorothiazide in 2013, was cleared by the Court of Arbitration for Sports (CAS) in 2014 after initially receiving a a public reprimand from the Jamaica Athletics Administrative Association (JAAA) disciplinary panel.
In 2015, another Jamaican athlete, Traves Smikle, who also tested positive for Hydrochlorothiazide, was slapped with a then maximum 2-year ban by the Independent Anti-Doping Disciplinary panel, which was upheld by CAS.
---