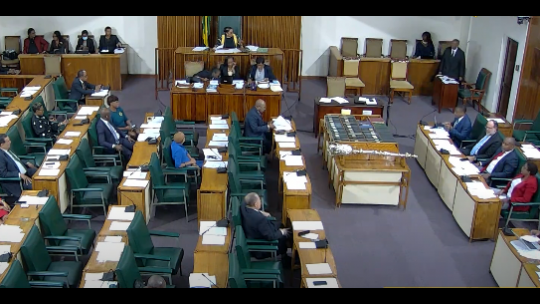 Political commentator Damion Gordon
By Nakinskie Robinson
Amid
significant public support for term limits
to be imposed on those elected to the House of Representatives, a large percentage of Jamaicans also believe there should be age limits for Members of Parliament and Ministers.
Like most Jamaicans, political commentator Damion Gordon is also in favour of the imposition of age limits for elected officials.
According to the results of the latest RJRGLEANER Don Anderson polls, 92 per cent of respondents agreed that age limits should be implemented for Ministers and MPs.
Six per cent said an age ceiling should not be imposed, and two per cent of respondents were uncertain.
Sixty-one per cent of those interviewed said elected officials should retire at age 65, while 21 per cent believed parliamentarians should exit the post at age 70.
The results were split evenly at six per cent among those who believe the retirement age should be either ages 60, 75 or otherwise.
In an interview with Radio Jamaica News on Thursday, Mr. Gordon noted that the age restriction applied to other public servants should be enforced on elected officials.
"There is an age of retirement, for example, that guides other public servants in Jamaica. We don't have that in place for elected officials. And therefore that begs the question, why is there a different standard for public servants and for elected officials? There is a view that this standard should be applied to every single individual who holds public and elected office."
Mr. Gordon said an age cap for parliamentarians could also allow for better replenishing of the political workforce.
"There is a recognition that by the time an individual gets to this age group or age range, the natural evolution of the body is such that their ability or capacity to properly function in a job position may be compromised by a number of unavoidable factors linked to age and perhaps declining health," he argued, suggesting the retirement age serves the purpose of allowing the regeneration of human capital.
"At some point the human resources are been prepared to assume the functions of individuals who currently occupy roles within the organisations inclusive of being parliamentarians," he added.
A significant number of serving Ministers and Members of Parliament have already surpassed the 60 to 65 age ceiling.
Another 18.2 per cent maintain that no restrictions should be imposed on parliamentary representatives and 4.7 per cent were unsure.
The poll was conducted among 1,010 people across Jamaica from August 30 to September 14.
It has a margin of error of plus or minus three per cent.
---