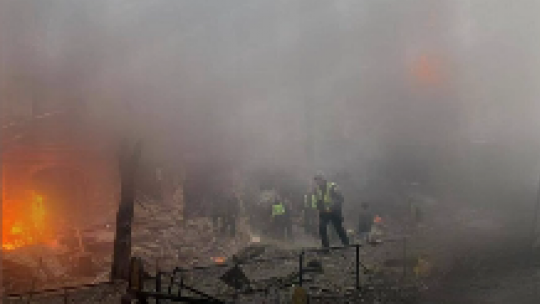 Ukraine and neighbouring Moldova have faced widespread blackouts after the latest wave of Russian strikes.
At least six civilians in Ukraine were killed in the barrage, and officials were forced to shut down three nuclear reactors due to power outages.
Moldova was not directly hit but half the country lost power.
With winter setting in, Moscow has stepped up strikes on Ukraine's energy infrastructure.
Half of the country's power grid needs repair.
An air-raid alert was issued across Ukraine today, followed by reports of explosions in a number of locations - including in the capital Kyiv and in the Western city Lviv.
In the southern Zaporizhzhia region, emergency services said a newborn was killed when a missile hit a maternity unit.
The commander of Ukraine's armed forces said 70 cruise missiles were launched by Moscow, with air defences successfully intercepting 51 projectiles.
---