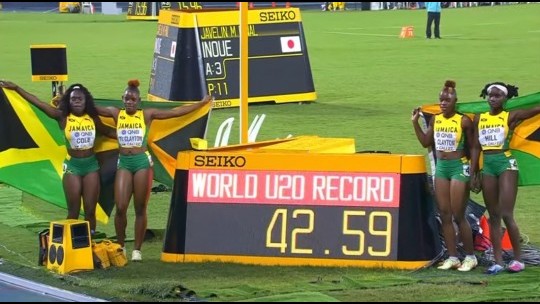 Jamaica's women produced another superlative performance in the 4x100 metre relay to set yet another world under 20 record in the event on day five of the World Athletics Under 20 Championships in Cali, Colombia.
It was one of four gold and seven medals overall the nation copped today.
The women's 4x1 relay team rebounded from the non-ratification of the world record at the CARIFTA Games at the national stadium by once again erasing their own previous mark.
The team of Serena Cole, Tina Clayton, Kerrica Hill and Tia Clayton sped to 42.59 seconds to gold and erasing the old mark of 42.94 which was set by the Jamaicans in Kenya in 2021.
Then came Brianna Lyston and Alana Reid in the women's 200 meters with gold and bronze.
Lyston sped to 22.65 seconds to win while Reid clocked a personal best 22.95 to take the bronze.
After finishing third the men's 4x1 team was upgraded to silver after the South African team which won was disqualified for a lane violation.
The team was anchored by Adrian Kerr, who made up grounds to get the Jamaicans back in the medal.
Following the disqualification japan upgraded to gold while the United States who had finished fourth upgraded to the bronze medal.
Brandon Pottinger in the men's high jump, tried to do what no Jamaicans have done before, winning the event.
Well, while other competitors were disrupted by the rain, Pottinger wasn't as he cleared the bar at 2.14 metres to win gold to be the first Jamaican at any level to win a high jump title.
It got better for the Jamaicans as Jaydon Hibbert posted a championship record in the triple jump after landing 17.27 meters to grab gold.
Roshawn Clarke was looking all over a winner in the men's 400 meter hurdles until hitting the penultimate barrier which saw gold turning to bronze.
He finished in a time of 49.62 seconds as Ismail Nezir of Turkey took the gold in 48.84 seconds.
Kerrica Hill ran a world under 20 leading time in the women's 100 meter hurdles after clocking 12.87 seconds to advance to Saturday's final.
Alexis James clocked a personal best of 12.94 seconds as joined Hill as the fastest qualifiers going into the final.
Macheda Linton produced a personal best 13.06 meters to finish fifth in her qualifying group of the girls triple jump to join the 11 other competitors in the final.
The girls 4x400 meter relay team won their heat in 3 minutes 34.92 seconds for the fifth fastest time overall going into Saturday's final.
The boys also won their heat in 3 minutes 07.32 seconds to book their spot in the final.
And J'voughnn Blake clocked 1:48.87 for sixth in his semifinal heat of the men's 800 meters and did not advance to the final.
---