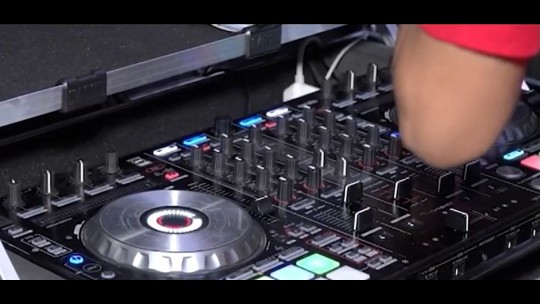 Cordel Green, Executive Director of the Broadcasting Commission, and music producer Dwayne 'Fire Wayne' Cowans
Major changes are coming to the types of music and videos allowed to be broadcast on radio stations and free-to-air television.
The Broadcasting Commission on Tuesday issued a directive requiring broadcasters to take immediate steps to prevent the transmission of any recorded material that promotes and or glorifies illegal activity.
In a statement, the Commission said any audio or video recording, live song, or speech which promotes and or glorifies scamming, illegal use of drugs, illegal use of guns or other offences weapons, jungle justice or any form of illegal or criminal activity, is "strictly prohibited".
The Commission said this includes live editing and original edits as well as the use of near-sounding words as substitutes for offensive lyrics, expletives, or profanities.
Executive Director of the Broadcasting Commission, Cordel Green, said while there is a right to free expression, some expressions can be harmful.
Although the Commission has been accused of delayed action, Mr. Green argued that sometimes acting too soon has unintended consequences, such as suggesting the entity does not have a "full understanding of what's going on" or it could give popularity and more exposure to the questionable content, causing people to search for it in unregulated spaces.
Mr. Green said broadcasters should abide by the regulations which govern the industry.
He contended that many of these regulations have been violated in "egregious ways" in some instances, and warned that when this happens the Commission must step in "unapologetically".
The poll revealed that 41 per cent of Jamaicans believe there is a connection between dancehall music and the level of criminality in Jamaica, while 30 per cent say it somewhat has an influence.
Entertainment industry reacts
Entertainment stakeholders have reacted to the announced ban on music that promotes and or glorifies illegal activity.
Music producer Dwayne 'Fire Wayne' Cowans believes the ban will not be effective, as there are various other platforms which people are using to access music.
He cited YouTube, Spotify, Audiomack, mixtapes and dances as alternative sources for the music that will be prohibited from radio and TV.
He reasoned that it will be "up to the parents or up to the individual to know what they're listening to and know how it's going to affect them individually".
Several other music producers reacted on social media, with Notnice calling the move "a waste of time".
Producer Romeich said while he does not agree with glorifying guns or the use of drugs, artistes should not be curtailed from singing about what they see around them.
Rvssian, who is known for several productions with entertainer Vybz Kartel, has expressed that he does not depend on radio for airplay.
---