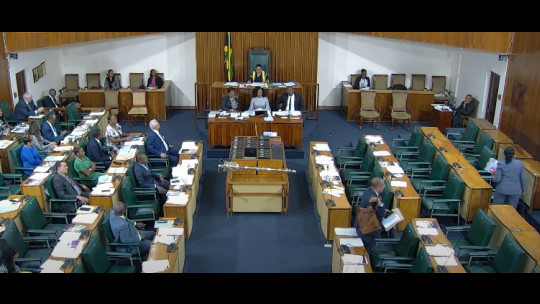 House Speaker Marisa Dalrymple-Philibert
By Lorraine Mendez
Opposition Members of Parliament walked out of the House of Representatives on Tuesday afternoon, following House Speaker Marisa Dalrymple-Philibert's refusal to entertain debate of an Integrity Commission report concerning the filing of her statutory declarations.
The Integrity Commission's investigation report and indicative ruling concern supposed false statements in the statutory declarations Mrs. Dalrymple-Philibert filed for the years 2015 to 2021.
Following the announcement of the report in Parliament, the House Speaker indicated that she took the decision to table the report to ensure there is no accusation of a conflict of interest. She said the report would then be sent to the Integrity Oversight and Ethics committees of Parliament.
"All members of this House will then be given an opportunity to discuss the contents of the report in both the Integrity Oversight Committee meetings and in the Ethics Committee meetings. And additionally, all members will be given another opportunity to discuss the contents of both reports when they are returned to this House," she insisted.
Opposition Leader Mark Golding was the first to rise with a question for the House Speaker, but was shut down.
"If the question is opening a debate, I'm not going to do that. It has been referred. The matter is tabled and it is public; it is public knowledge and any committee that I sit on or when it is deliberated in this House, I will as Speaker recuse myself. It has been referred to two committees and that is my ruling," the House Speaker declared.
The opposition members walked out shortly afterwards.
The House of Representatives continued its sitting without the opposition members.
Following their walkout, the opposition immediately convened an emergency press briefing where they complained that they had not been given an opportunity to speak on the matter.
Among other things, they raised concern that the House Speaker presided over Tuesday's sitting of the House despite knowing the report being tabled related to her statutory filings.
Opposition Leader Mark Golding called for Mrs. Dalrymple-Philibert to step aside or be removed as House Speaker until all matters being investigated are determined.
---