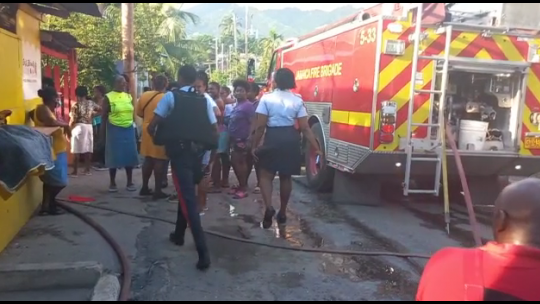 Leroy Samuels and Andrew Richards, residents of Standpipe who lost their houses to a fire on Thursday
Fire personnel are carrying out cooling down operations at Standpipe, St. Andrew where four houses were destroyed by fire.
The fire started around 3:30 Thursday afternoon.
Three fire units from York Park and Half Way Tree responded to the blaze.
Leroy Samuels said he was at work when he got the call that his house was on fire.
He says he lost everything in the blaze.
"Dem call me seh mi house a bun dung and when dem call me...and me come up yah, mi couldn't do nut'n . Di whole place ketch a fire. A mus about two shirt dem save fi mi and pants.... Di whole a mi fridge, everything bun up mi inna mi house," he lamented.
Another resident, Andrew Richards, said he also lost everything and will need assistance to pick up the pieces.
"Bwoy, mi nuh know how mi aguh survive, mi nuh know.... Mi wish we coulda get some help doah, a just dat. Mi wish we coulda get some help. We need a MP or somebody can come talk to wi," he said.
The cause of the fire has not been determined.
---