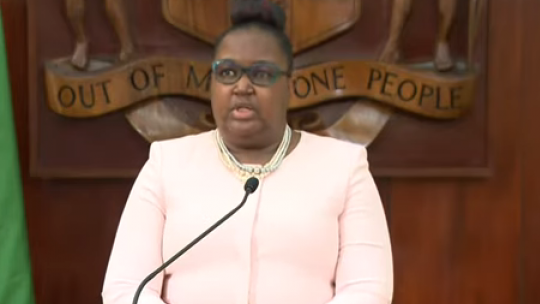 Attorney-at-law Peter Champagnie KC
By Halshane Burke
Officers from the Major Organised Crime and Anti-Corruption Agency (MOCA) on Friday morning searched the residence of interdicted acting permanent secretary in the Ministry of Education, Dr. Grace McLean.
Dr. McLean's premises was one of nine searched as the probe intensifies into allegations of impropriety by the civil servant.
Major Basil Jarrett, Director of Communications for MOCA, told Radio Jamaica News that the Agency and the Financial Investigation Division conducted search and seizure operations at the locations in connection with an ongoing investigation into operations at the Ministry of Education and the Joint Committee for Tertiary Education.
Attorney-at-law Peter Champaignie KC, who is representing Dr. McLean, said his client cooperated fully with the investigators.
Mr. Champagnie said his client "maintains her innocence and maintains the fact that she did not do anything unethical or illegal", so she is eager to have her name cleared.
The attorney noted that the interdiction stems from claims by persons associated with the ministry that regulations were not followed in relation to the transfer of millions of dollars.
He said his client had the opportunity to respond to those issues in writing, but is yet to get a response from the relevant authority.
Additionally, Mr. Champagnie said there has been no word on the recommendation for a surcharge to be applied to force Dr. McLean to repay the more than $100 million.
"It wasn't instituted. It was a recommendation and an opportunity was given for us to respond in writing as to why it is that there would have been no basis for that recommendation and we, within the timeline, responded on her behalf, and to date we have not gotten a response in relation to that," he disclosed.
The attorney was speaking with Hotline host Emily Shields on Friday afternoon.
---